In this era of ever-evolving trends, staying up-to-date with the latest fashion is not merely a choice; it's a statement. Fashion is an art form that empowers individuals to express their unique personalities and exude confidence with every step. As May unfolds, we find ourselves at the pinnacle of this sartorial journey, witnessing the rise of May Queen dresses, the epitome of elegance and style.
Embark on this fashionable adventure with us as we delve into the dresses that have mesmerized fashion enthusiasts with their innovative designs, luxurious fabrics, and exquisite details. From glamorous red carpet gowns to chic and versatile daywear, these dresses embody the essence of sophistication and capture the importance of the 2023 fashion landscape.
Whether you're seeking inspiration for a special occasion, aiming to revamp your wardrobe, or simply indulging in the joy of fashion, this blog is your ultimate guide to the must-have dresses of the year.
Embrace the magic of fashion as May Queen takes charge!
A Symphony in Silk: The Majestic Ball Gown
Step into a fairytale with the exquisite ball gown from the May Queen dresses collection. Crafted with precision and grace, these dresses feature intricate embroidery, luxurious silk fabrics, and voluminous skirts that create a stunning silhouette. Perfect for formal events and evening galas, this enchanting gown will make you feel like royalty.
Red Carpet Glamour: The Sequined Sheath Dress
If you're looking to make a statement at your next red carpet-event, the sequined sheath dress is your go-to choice. May Queen has perfected the art of combining elegance and glamour with this dress. Adorned with shimmering sequins, it hugs your curves in all the right places, ensuring all eyes are on you as you enter the spotlight.
Timeless Romance: The Lace Mermaid Gown
When it comes to wedding attire, May Queen knows how to create unforgettable moments. The lace mermaid gown is a testament to their expertise in crafting dresses that evoke timeless romance. This figure-hugging gown, embellished with delicate lace and intricate beadwork, will make any bride feel like a true vision of elegance on her special day.
Sleek and Professional: The Tailored Pencil Dress
May Queen brings sophistication to the workplace with the tailored pencil dress. This sleek and structured dress accentuates your figure while maintaining professionalism. Its clean lines and refined details make it the perfect choice for making a lasting impression in the office.
Effortless Elegance: The Wrap Dress
Look no further than the classic wrap dress for a versatile office ensemble. May Queen prom dresses collection offers a range of wrap dresses in various prints and fabrics. From bold solids to timeless patterns, these dresses effortlessly blend style and comfort, allowing you to conquer your workday confidently.
Playful and Flirty: The Off-Shoulder Sundress
For a flirty and playful look, the off-shoulder sundress is a summer essential. May Queen offers a range of off-shoulder dresses with vibrant colors and playful patterns. So whether you're attending a beach party or enjoying a picnic in the park, this dress exudes a relaxed yet stylish charm that perfectly captures the essence of summer.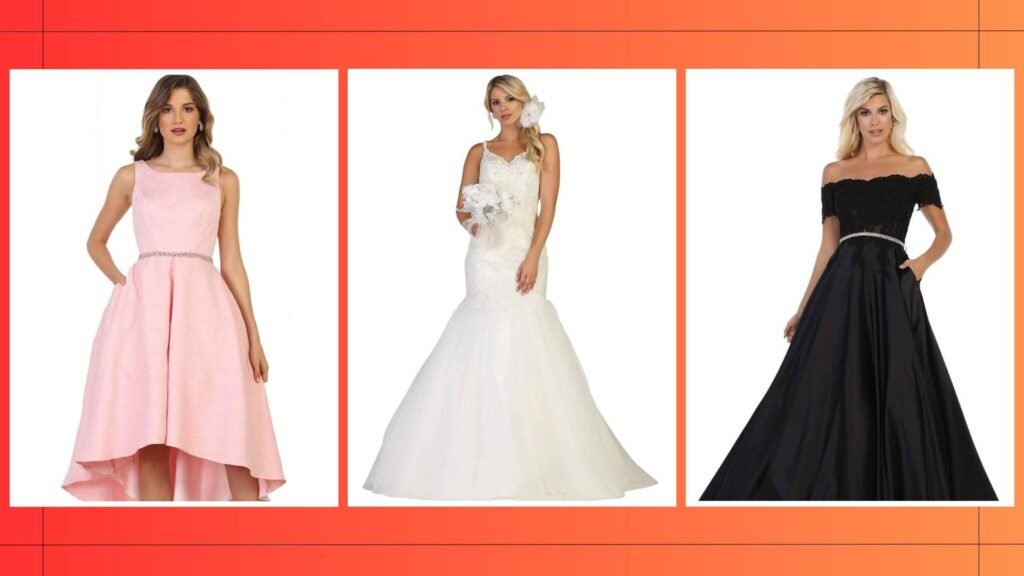 Sparkling Allure: The Sequined Cocktail Dress
For a touch of glamour and sparkle, the sequined cocktail dress is a show-stopping option. May Queen's collection boasts an array of sequined dresses that catch the light and make a statement. So whether you're attending a glamorous soirée or celebrating a milestone, this dress will ensure you shine bright all night long.
Timeless Elegance: The Little Black Dress
No wardrobe is complete without the iconic black dress . May Queen offers a range of black dresses with different cuts and embellishments, ensuring there's a perfect fit for every occasion. With its versatility and timeless appeal, the black dress remains a classic choice for cocktail parties and special events.
Playful and Vibrant: The Ruffled Sundress
Embrace the carefree spirit of a resort vacation with the ruffled sundress. May Queen offers a variety of sundresses adorned with playful ruffles and bold, tropical prints. Capture everyone's attention with the ethereal charm of the chiffon empire dress. This enchanting gown from May Queen's collection exudes grace and elegance. Crafted with delicate chiffon fabric, it creates a dreamy silhouette that floats effortlessly as you move. The empire waistline enhances your figure, while the dress cascades down in a mesmerizing flow. With its timeless allure, this dress is perfect for any special occasion, where you'll radiate an irresistible allure.
Ethereal Charm: The Chiffon Empire Dress
For a dreamy and ethereal look, opt for the chiffon empire dress. May Queen offers a range of empire waist dresses with flowing chiffon skirts that create a soft and romantic effect. With their delicate details and feminine charm, these dresses are perfect for formal occasions where you want to exude grace and enchantment.
Modern Elegance: The Sheer Panel Dress
Create a captivating look with the sheer panel dress. May Queen's collection offers dresses with strategically placed sheer panels that add a touch of allure and modernity. Whether it's a cocktail party or a night out on the town, this dress will make you the center of attention with its contemporary elegance.
Retro Glamour: The Tea-Length Swing Dress
Transport yourself to the golden era of fashion with the tea-length swing dress. May Queen's collection includes charming retro dresses with full skirts, cinched waists, and vintage-inspired prints. This dress captures the essence of classic elegance, making it a perfect choice for themed parties or occasions where you want to stand out with a touch of nostalgia.
Modern Elegance: The High-Low Hemline Dress
Consider the high-low hemline dress if you're seeking a contemporary twist for your destination wedding. May Queen Quinceanera dresses offer a range of asymmetrical hems that add a touch of modernity to traditional wedding attire. This style lets you showcase your shoes and adds a playful element to your overall look.
Conclusion
May Queen has undeniably solidified its reign in fashion with its remarkable collection of dresses for 2023. From breathtaking designs to exquisite craftsmanship, the May Queen's Collection of Must-Have Dresses has captivated fashion enthusiasts and industry insiders alike. Each dress in this collection is a showstopper, embodying the perfect blend of elegance, sophistication, and trendsetting style.
As we immerse ourselves in the glamour and artistry of these dresses, it is clear that May Queen is a brand that continues to redefine fashion. Their showstoppers of 2023 will undoubtedly leave a lasting impression for years to come.
Read more: A Symbol of Luxury: The Lady Dior Bag