Summer is here to provide us with its scorching heat and lots of sweating, wait, there is also another side to it now we get to wear what we feel is comfortable for us, also now it's time to update our wardrobe with some stylish and comfortable kurti and palazzo outfits. You may wonder why Palazzo right. well, palazzo makes us feel comfortable on a whole other level as it's baggy and doesn't stick to our bodies. Not only that the combination of kurti and palazzo is a perfect blend of traditional and modern fashion that can be worn for both casual and formal occasions.
Here we have for you top 6 kurti and palazzo outfits to slay your look this summer.
1- Floral Kurti and Palazzo:
We all know Floral print kurtis are our first choice, aren't they? These long kurti for women are a must-have for your summer wardrobe. And you know what goes best with the floral kurti , matching palazzo paired with it creates a vibrant and refreshing look. We can choose light and breathable fabrics like cotton or linen for maximum comfort.
The floral pattern adds a feminine touch to your outfit and not only its perfect for casual outings but you are all set to go attend a function if you like. Accessorize with some simple jewelry, flats, or even heel if you feel like it to complete the look
2- Embroidered Kurti and Palazzo:
Light kurtis are for sure the best but Embroidered kurtis have a whole other look to them. Moreover, they are perfect for formal occasions like weddings and receptions. Pair an intricately embroidered kurti with a solid-colored or semi-printed palazzo to create a chic and elegant look.
The embroidery work adds a touch of sophistication and a different charm to the outfit, making it perfect for events where you want to make a fashion statement. You can complete the look with a pair of high heels or wedges and statement earrings with a heavy neckless or a pendant whichever suits you.
3- Printed Kurti and Palazzo: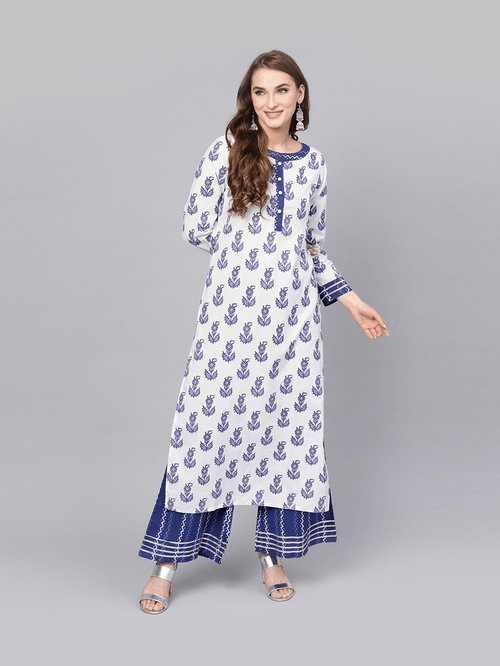 Let's talk about Printed kurtis these are some of the most adored and stylish kurtis in a women's wardrobe and palazzos are a go-to bottom wear for it, as this pair is very versatile and can be worn for both casual and formal events. You can choose from prints like geometric, abstract, or paisley for a contemporary look.
You can also experiment with your outfit and can mix and match prints for a bold and unique style. Pairing it with sandals and a sling bag for a casual daytime look is a great choice you can make. Lastly, the printed design adds a pop of color and personality to the outfit, making it perfect for a fun and playful look.
4- Slit kurti and Palazzo:
why not go a bit modern with the fusion of our traditional kurtis. You are sure to make a statement of style if you are wearing a Slit kurtis. These kurtis are a modern take on the traditional kurta, Furthermore when paired with palazzo pants, you will have an assured chic and stylish appearance.
The slit in the kurti and palazzo set adds a touch of glamour and sophistication to the outfit, making it perfect for special occasions or evening events. This Cotton kurta set for women can be Accessorized with light jewelry and a pair of wedges or sandals and you are all set to rock.
5- Short Kurti and Palazzo:
This kurti and palazzo pair speaks of style, comfort, and elegance Short kurtis paired with palazzo pants are the perfect combo of a comfortable and trendy look. Be it a formal occasion or a casual event this kurti and palazzo set has got you covered.
Furthermore, these long kurti for women and their palazzo pair represent a traditional and elegant form of choice. You can also Choose from prints like paisley, floral, or mandala for a classic look. Go with some jhumkas and kolhapuris for a complete ethnic look.
6- Striped Kurti and Palazzo
Talking about a unique and modern look Striped kurtis and palazzos are perfect for a casual as well as formal gathering it has an elegant and chic look to them. The striped design adds a playful touch to the outfit. You can choose vertical or diagonal stripes to create a slimming effect.
You can wear the same print palazzo or a solid-colored palazzo with it. For accessory, you can Pair it with some chunky jewelry and sneakers for a laid-back and cool look. And you are all ready to make a perfect day out with friends or family.
In conclusion, kurti and palazzo outfits are a perfect blend of comfort and style, making them a must-have for your summer wardrobe. With these amazing top 6 outfit ideas, you are all set to slay your look this summer and make a fashion statement wherever you go. Whether you prefer floral prints or solid colors, embroidered designs, or slit kurti, there's a kurti and palazzo combination for every occasion. So, go ahead and experiment with different styles and colors to find the perfect look for you!
Read more: 5 Reasons Why Leather Accessories Make the Perfect Gifts