If you are here, you might have purchased aquamarine earrings just now and are looking for ways to style them. Or you are planning to purchase a pair but want some styling ideas first. In both cases, you have come to the right place.
Aquamarine earrings are considered one of the best jewels that a woman can own. They look opulent and chic, which can enhance your personality significantly. However, to get the best out of your beautiful aquamarine earrings, you should know how to style them on point, which we will know today here.
Breaking the outfit
An outfit is built with two factors, one is the clothes, and the other is the accessories. Therefore, we will approach the answer to "what to wear with aquamarine earrings?" in two ways. First, we will discuss the details of the clothing that makes a good outfit with aquamarine earrings. Next, we will discuss the accessorization of the outfit to make it appealing and alluring.
Clothing
Colors
The first thing that a person notices in the clothes are the colors. It is the first point of vision in any outfit. So you need to be careful about choosing the right color combination of clothes for your aquamarine stud earrings. The beautiful blue hues of aquamarine are also blended with green sometimes. The light shade of blue and green goes well with navy blue, lavender, pink rose, peach, and aubergine. First, you must choose a top with these colors, and then, you can pair it up with a similar color bottom.
Or you can choose from contrasting color schemes such as black, teal green, and white. But before choosing the outfit colors, match them with your skin undertone. For example, go with light colors such as lavender and pink roses if you have a lighter or winter undertone. On the contrary, if you have a darker or summer undertone, choose navy blue, black, etc.
Fabric
When choosing the fabric, you should see what kind of outfit you want to create with your aquamarine earrings. For example, if you want to create a party outfit, you can use satin fabric. The sheen of satin will complement the crystal finish of the earrings. On the other hand, if you want to create a daytime outfit, you can choose light-colored cotton material. This will give you a breezy look with the light hues of aquamarine drop earrings.
However, avoid heavy fabric materials such as velvet or polyester, as this can make the outfit look tacky and pompous because the heavy dress will take the attention from the earrings while disrupting the balance of the complete outfit.
Patterns
When it comes to patterns, you should choose minimal solid or no patterns with aquamarine stud earrings. Even if you want to add some patterns, you can experiment with the bottom wear. But avoid the top part as it falls in the direct vision line of the earrings, which will make the patterns clash with the calm hues of the earrings.
Accessories
Next is the accessorization with your aquamarine earrings. A pair of aquamarine earrings is a complete accessory in itself.. However, to make an outfit complete, there are different types of accessorization that fashion designers suggest. So we are going to discuss which secondary accessory you should team up with your primary aquamarine accessory.
For neck
If you are going to a heavy party, you can wear an aquamarine necklace with earrings. You can also wear other gemstones similar in hue, such as diamonds. However, don't wear gemstones with opposite hues, as they clash with the primary accessory. A minimal look is best for daytime outfits so you can pair up a silver chain with the aquamarine gemstones. Gold chains are also not a good option as the golden hue contradicts the light blue shades' color scheme. So it will end up making your face look dull.
For hands and feet
Hands and feet are not in the direct vision line of your outfit. So you can experiment with them as you want. But you should focus on maintaining the complete harmony of the outfit. So choose a simple silver, aquamarine, or diamond bracelet to complete the look. An anklet is unnecessary, but for extra oomph, you can wear a very thin silver chain anklet with the complete outfit.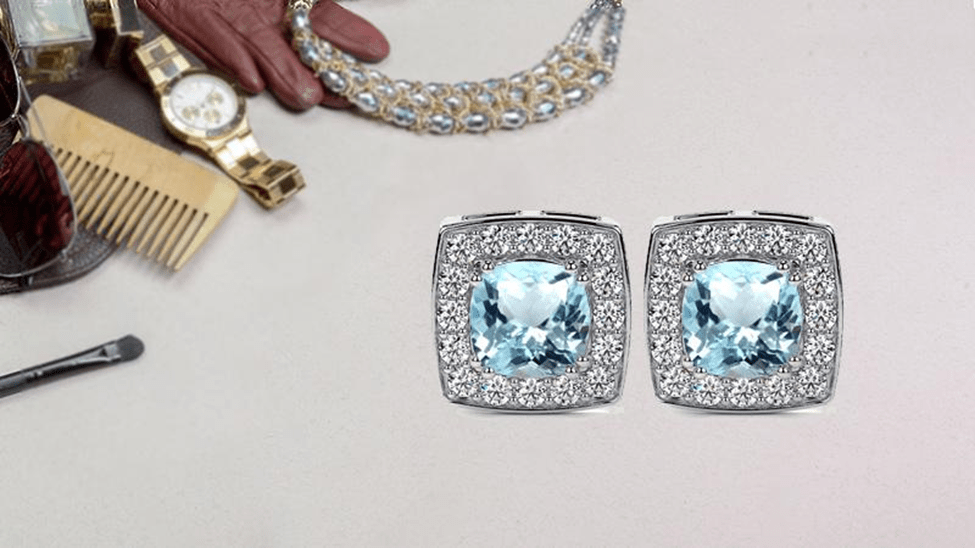 Handbags and clutches
The outfit can not be completed without a bag. And thankfully, you don't need to put much thought into choosing the bag you want to carry with aquamarine drop earrings. Just don't forget to maintain the outfit's color palette with your handbag, and you are good to go. Still, if you are confused, then there is a hint. Clutches are perfect for fancy outfits, while handbags will be cooler to look at and easy to carry for daytime outfits.
Bottom line- the complete outfit!
So now you have the complete idea of what one should wear with the aquamarine earrings and what not. Let's sum up the above discussion. For a fancy outfit with your aquamarine earrings, choose a satin fabric with light hues such as peach or navy blue, and avoid rigid patterns. Add silver or diamond accessories to make the outfit look complete. Similarly, for a daytime outfit with your aquamarine earrings stud, combine cotton fabric and team it up with simple silver jewelry while keeping it minimalistic.
Read more: How to Style a Kitten Heel?